THE NAUTILUS
I have always wanted a nice replica of the Nautilus, the famous ship from captain Nemo in Jules Verne's book "Twenty Thousand Leagues Under the Sea". Master Replicas in cooperation with Scott Brodeen did produce a fine replica of Disneys Nautilus, but unfortunately it sold out before I was able to buy it. I have decided to contact Scott Brodeen and was able to purchase a 31 inch Nautilus kit directly from him.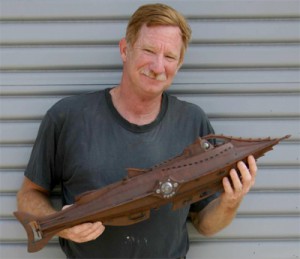 The kit consists of 34 parts, with almost zero flash on them. Yes the castings are just great and the level on details even greater. There are also some metal parts and clear parts included and there is room to add internal lights to make the kits interior more visible.
The instructions were kept pretty simple but also include suggestion for the type of paints that the Nautilus requires.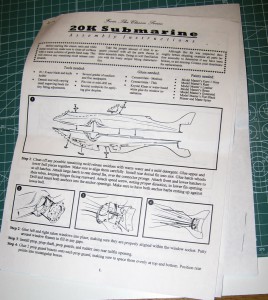 At 31 inch (~78cm), this Nautilus looks to be somewhere near 1/69 scale. Very nice size for display, a resin stand is also included with the kit. Scott may not offer this kit directly anymore but you can check at Nautilus Drydocks for ordering information
| | |
| --- | --- |
| PROS: | Sharp castings, nice size and probably the most accurate version of Disney's Nautilus |
| CONS: | Availability |
| SKILL LEVEL | Medium |
| VERDICT: | Probably one of the best Nautilus kit, money can buy. Very good quality and good engineered. |