Nautilus
20,000 Leagues Under the Sea – The Nautilus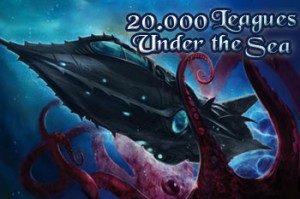 Remember the Nautilus? The famous Victorian-styled submarine from Jules Verne's novels Twenty Thousand Leagues Under the Sea and The Mysterious Island? In case you asking yourself if there is descent Nautilus kit available in the market, then you should continue reading. Nautilus kits can be purchased either directly from Scot Brodeen or here. Scott Brodeen has produced many Nautilus models and replicas, and even assisted in the restoration of the original eleven foot filming miniature, also known as the "hero" model.
Specs
| | |
| --- | --- |
| Model: | Nautilus |
| Scale: | 1/69 |
| Manufacturer: | Scott Brodeen |
| Media: | Resin, Some metal parts |
| Price: | 450$ plus shipping |
| Availability: | available |
The Kit
I ordered my kit directly from Scott Brodeen and received it approx. 5 weeks later. This is a big kit, measures 31 inch (~79 cm) wenn built and came in a big box. The kit has a detailed wheelhouse and removeable skiff and the hull is hollow something which is a good option for the modelers that would like to include lights. A styled display stand and instructions with painting information is also included.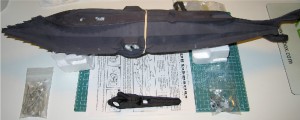 Beside the resin parts, there are some white metal parts (some of them for the interior). While inspecting the parts, I had a feeling a was holding a piece of my childhood in my hands, yea I was holding the famous Nautilus I read about in the books. The quality of the kit is top-notch. Scott made a first rate kit with loads of detail, very little flash to clean or sand. Fitting seems also very good.
Fortunately there are many online resources for help and hints to help you built this kit, its always nice to see what other fellow modellers came up with theirs. In case you would need any help or additional information, good reference sites would be: http://www.disneysub.com and http://www.nautilussubmarine.com
Verdict
| | |
| --- | --- |
| The Good | Very good kit, fine details, easy to put together |
| The Bad | None I can think of |
| Skill level: | Basic |
Conclusion
Looking for a good model kit of the Disney Nautilus?, No strike that, looking for an awesome model kit of the Nautilus? Then Scott's version is the right choice for you. It doesn't get any better than this.
Gallery